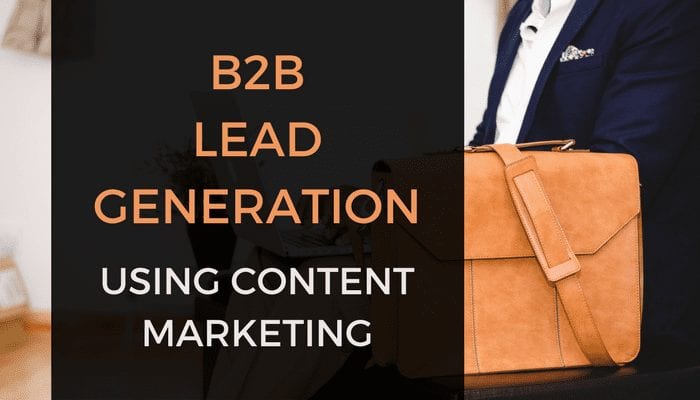 3 Ways to Generate B2B Leads Using Content Marketing
Generating leads starts with building a rapport. Meeting people face-to-face is undeniably better when it comes to starting conversations and nurturing relationships.
But for this to work, you need to be amongst the right people. If you're a frequent traveler who participates in several events, this could really work out for you. But what happens when you don't get to travel as much? If you're busy and not able to attend events?
It's the same case with referrals from family and your circle of friends. Once they run out of people to talk to about your business, your leads count will plateau.
Also, how about generating overseas leads? If you're selling digital products or remote services, the need to meet offline will slow down your growth.
This is where content marketing for B2B lead generation comes in.
Content is the fuel to your marketing campaigns.
Marketers today rely on content to engage prospects and customers, no matter where they are. There is always the need to create content that inspires, educates and gets shared all across the social media circle.
Content marketing is now a universal strategy according to the Content Marketing Institute, a study revealing that ".. with almost 90% of companies using it in 2016, and even more utilizing it in 2017."
If you're not investing in content marketing to generate leads, it's time you should. Below is a 3-step guide on:
How to Generate Leads Using Content Marketing:
1. PRODUCE PROVEN CONTENT
According to Corbett Barr,
"If you're working to build a loyal audience, you can't afford to waste time writing mediocre posts."
Focus on tried and tested topics that are bound to work. Avoid hedging your bets on unproven topics, especially if you're looking for faster ROI.
This doesn't mean that you should stop exploring. I'm simply suggesting that it's not a safe bet for your unproven experiment to generate a lead, especially if you're currently working on a tight deadline.
To follow what's trending, here are some great tools:
BuzzSumo – most-shared content and popular authors
Google Trends – visualizing Google's data
Epicbeat – find top content and influencers
Ruzzit – viral content & videos
Get inspired by content you personally enjoy.
You shared a piece content you really like? Think about what made you share that content.
Create something that you know would make people want to share your content like you shared other people's work.
2. SHARE YOUR BEST CONTENT
Share your most popular work.
After following trends, look at your analytics. Look at your best performing posts. Your monitoring tool can easily show you valuable data for that.
For instance, you can use Google Analytics to find your most popular content.
Go to Google Analytics.
Determine your time frame.
Check the pages on your blog that have the most views.
Repurpose that content on your site or feature them on your social sites.
From there, you know what articles to share.
Once you've identified your best work, keep sending them via email. Link your Twitter bio to that popular video. Ask your business partners to share the articles with their network.
3. ADD A TAILORED SIGN-UP FORM
It doesn't end with traffic. In fact, that's only the beginning.
You have to make sure that your work will produce opt-ins, so you can follow up with people. You want to begin customer relationships and later nurture them into passionate advocates.
Here are some tips to create a high-converting sign-up form:
PLACE IT ABOVE THE FOLD
Forms that are placed above the fold can easily be seen. Its exposure will be maximized since people don't have to scroll in order to sign up.
Lewis Howes' site is all about living the dream. The encouraging tagline "Make a living doing what you love" is followed right away by the opt-in box above the fold.
HIGHLIGHT IT VISUALLY
Cues like arrows or other directional cues show your visitors where to focus their attention next. Use pattern interruptions. They're like street signs, very visible and is able to show people where they should be headed.
Loud Rumor uses an arrow on their opt-in form to influence CTA button clicks.
CREATE AN INCENTIVE
You can create different types of "rewards" for people who give you their contact information. The best incentive you can give is the kind that people can get for free. People love freebies.
If they are interested in your product or service, they would surely like getting free incentives from you. That warms up the relationship before going deeper.
Here are some ideas for gated content:
Ebooks
Webinars
Services
Software tools
MOST IMPORTANTLY: MAKE THE INCENTIVE RELEVANT
Sure, you can reward your audience with a free app.
Sure, you can give away a service.
But here's the thing to remember: it's all about solving their current problem.
No matter how you deliver the value, people want the transformation in the end. You can solve the same exact problem with an instructional video, free app, or service.
The delivery method doesn't matter at the end of the day.
What matters is customizing the offer.
What matters is giving away something closely related to the content they're consuming.
If they found you by reading your post about logo design, then offer them a solution for designing their logo!
Sounds basic, right? But a frequent mistake is offering something irrelevant. For example, the person reading about logo design finds an opt-in form for a free Facebook Ad design.
Don't just give away something valuable. Give away the specific thing that they're interested in!
This incentive was specifically designed for the article the audience is reading. It's a natural continuation, moving the reader from written to video content.
OVER TO YOU
To recap, you need to:
Produce proven content
Share your best content
Add a tailored sign-up form
I handpicked these 3 tips in terms of what will provide you quick wins.
The mindset here is for scale, long-term investments, and selling your products remotely.
Even if you started out as a brick-and-mortar business, you need to go online as you scale. By going digital, you can attract leads who wouldn't otherwise pass by your physical store. Get online, and start generating more leads through content marketing right away!