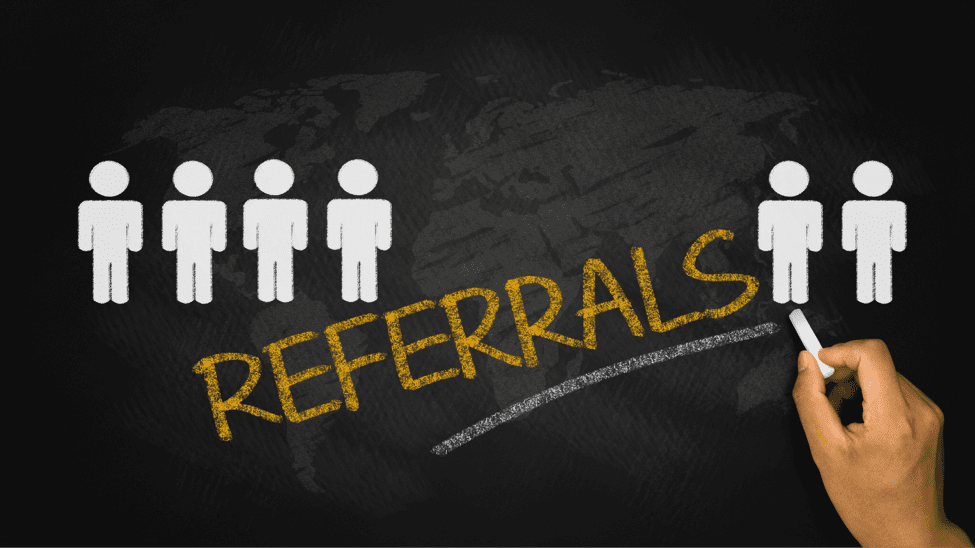 How To Get More Referrals For Your Business
The mantra of every business revolves around growth potential. Business owners who have figured out how to generate referrals from their existing customer base are more likely to survive and thrive. A study published in the Journal of Interactive Advertising indicated that word-of-mouth advertising appeared to have a more significant impact on shopping and buying decisions than traditional marketing methods. Generating qualified referrals is a solid strategy with positive outcomes, but it is a strategy that requires planning and finesse.
The Power of Referrals
Referrals from third parties who have experienced your product or service are considered highly credible. However, these referrals should be treated as part of a business relationship. A survey by Dun and Bradstreet found that referrals and advertising topped the list of most effective marketing methods as far as small to medium businesses were concerned. With social media platforms and other venues, referral marketing involves minimal expenses. It is also a way to build customer loyalty because the referring customer is putting his name and reputation on the line by endorsing your product or service.
How to Generate More Qualified Referrals
Effective referral marketing consists of a well-orchestrated plan that starts from assessing your operations and extends to after-market follow-up. The plan should be systematic to maximize the lead generation potential.
Establish a Reputation for Trustworthiness
To generate more business from your customer and the customer's friends and family, you need to prove that your product or service is worthy of the endorsement. Exceptional customer service and outstanding products will bring repeat business, and satisfied customers are typically happy to spread the word and bring you more business. Exceeding customers' expectations each time will pave the way for asking for referrals.
Express your Message Clearly
The easiest way to generate referrals is to ask for them directly. Referrals may be accidental, but an effective system asking for referrals should be integrated in the customer conversion process. The message should be clear, concise and presented in a conspicuous way rather than buried in the text or lost in the fine print. Make it easy for your customers to help you by including a click-through button that leads to an uncomplicated fillable form that can be submitted online.
Give them your Spiel
Increase the likelihood of getting referrals by preparing visual aids and cheat sheets about the benefits of your product or service. Your corporate brochure should address referrals by including a brief discussion and a blank form.
Provide Shareable Content
Create or curate content that is relevant to your market such as analysis of industry reports, illustrated product reviews, research briefs and pending regulatory changes among others. Content should be shareable with one-click buttons at the end of the article or infographic.
Create a Reward System for Customers Who Provide Referrals
When you ask clients and business colleagues for something, expect them to assess what could be at stake for them. Offering a rebate or discount for a pre-set number of referrals is one of the more common referral strategies. Customers can avail of discounted rates based on the number of referrals generated.
Seek Referrals from Complementary Businesses
Find businesses whose products or services complement your own, and offer to promote their businesses if they can promote yours. In the cross-promotion process, you may also ask for referrals as you intend to provide a similar list for them.
Load up on Client Perks
Providing extra services or free products can increase customer loyalty and satisfaction. These perks can be free, and you provide the links as customers fulfill the referral forms. Some of these perks include identity theft protection products, credit cards or subscription to periodicals. Obtaining freebies is something that clients are bound to talk about with their family or colleagues.
Keep your Social Media Profiles Updated
If you're a service provider, make sure that your profile on LinkedIn is up to date. Provide the link to your LinkedIn profile with a note that customers may forward your profile to others who may need your product or services. If relevant, provide links to your other social media accounts.
Express your Thanks
Thank every customer for referrals. This will show appreciation as well as provide another opportunity to put your name and business name in front of the client. Better yet, reach out to them offline if you see their online review; it will make them feel good that you acknowledged them.
Asking for Referrals should Become Second Nature
To establish a systematic method of generating referrals, make sure to consider this aspect at every interaction with your customers. Polish your methods and practice your strategies until asking for referrals becomes integral to your business process.