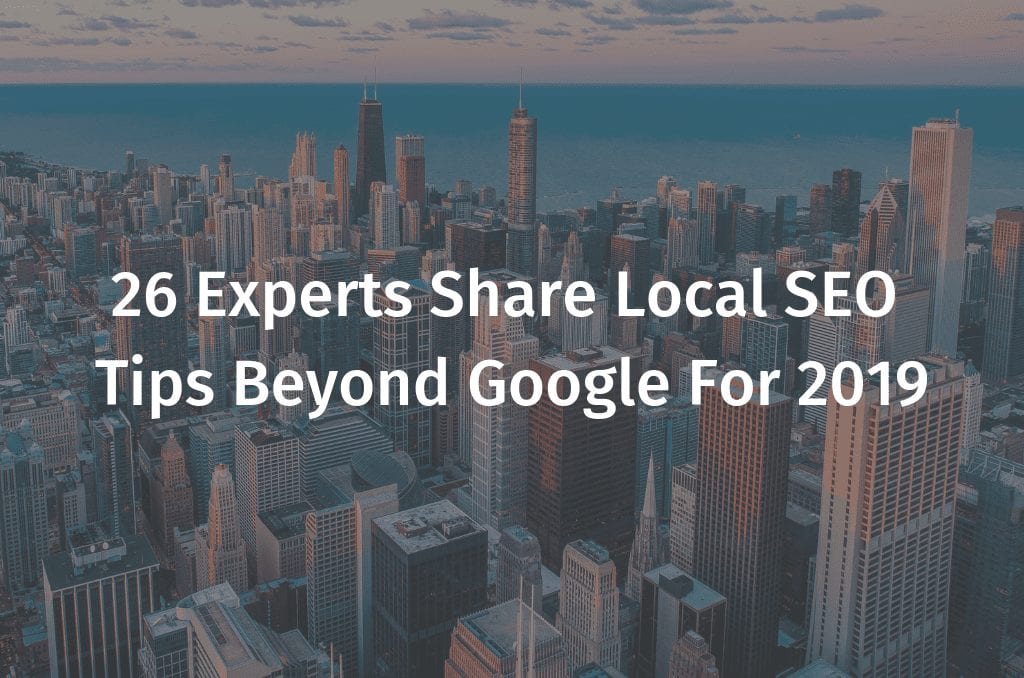 26 Experts Share Local SEO Tips Beyond Google For 2019
In today's rapidly changing world of Local SEO, it is going to take a lot more than just ranking on Google if you want to get noticed! If your customers cannot find your business through their smartphones, or on their voice-search device then you know you're going to lose them.
Exploring your ways outside Google also acts as a shield for your business against unprecedented changes. If you wondering what can be done? Then this post will help with just that.
We asked veterans from the local SEO industry for their local SEO tips beyond Google, and this is what they had to say about it.
What can businesses do outside Google for local SEO in 2019?
A.J. Ghergich, Founder of Ghergich & Co.
A key focus for any local business should be on 3rd party review platforms. You saying your company is #1 means next to nothing to your consumer. However, real customers sharing the joy of using your service are what moves consumers to action.
Every industry is going to have different platforms that cater best to them. If you are a plumber Angie's List may be key, but not so much if you are an Italian restaurant.
The simplest solution is to search like your consumer.
1. Mine out the questions from People Also Ask boxes in Google.
2. Write down the review sites that appear most often when you Google those questions.
3. Focus on the top 3 review sites that are active in your niche and match the search intent of your consumer.
4. Use review generation tools to manage it all and encourage your customers to review you on the platforms that matter the most.
What I love about focusing on review platforms is that even if your website rankings tanked you could still dominate your market by owning the narrative on review platforms.
Kris Jones, Founder of LSEO
Successful local SEO is increasingly becoming more about reputation management. Positive reviews drive sales, while negative reviews can halt sales. The key to going beyond Google is to put in place an active program to get happy customers to write positive reviews on websites like Yelp and Merchant Circle. If you don't have a program to maximize the velocity, quantity, and sentiment of your reviews it needs to be a 2019 goal. Call us if you need help.
Hazel Jarrett, Founder of SEO-Plus
My go-to local SEO tactic outside of Google is gaining online reviews.
Review signals now make up 15% of local search ranking factors, this has increased by 18% from the previous year.
While Google My Business is the obvious place to gain reviews, it's important to diversify.
Industry-specific review sites can be an incredibly powerful marketing tool as it's likely that the people viewing these sites will be further along the buying process and actively looking for a business within a specific niche.
To find your industry-specific review sites search for your business plus reviews, this will show the sites that Google is saying are important for your particular business.
Online reviews are crucial in gaining good ranking locally and they also help your customers decide to buy from you. So this is definitely one SEO tactic you need in 2019 and beyond.
Mike Schiemer, Founder of Bootstrap Business
One of my biggest go-to tactics for local SEO besides Google or on-page SEO is social media marketing. Social media allows you to spread brand awareness and drive traffic to your website from local customers. You can do this organically or with paid advertising. Either way, this provides two major benefits. First off, the increase in website traffic from local users tells search engines that your website is a good result in their geographic area. That means your website will start ranking higher in search engines. Secondly, the increased brand awareness and curiosity will cause more local users to search for your business on Google, Bing, Yahoo or other search engines. The increased search volume and clicks to your website also tell search engines that your business is a good result and should rank higher.
Shane Barker, Founder of Shane Barker
Getting your business listed in local directories and business listings is one of the best local SEO techniques, other than Google. When people search for local businesses, they often look at such directories to find the ones that are relevant to them. Also, these directories usually rank high in local search results, so listing your business there is an excellent way to help consumers find you.
Just keep in mind that your address and contact details should be accurate and updated on all such directory listings. Also, ensure that this contact information is consistent across directories. Avoid discrepancies like misspellings, abbreviations, wrong phone number, etc, because then search engines won't know which information is correct.
Maddy Osman, SEO Content Strategist at The Blogsmith
One of my best tips for local SEO outside of Google is to make sure that you're listing your address and contact information (business name, address, phone number, aka NAP) in a prominent place on your website. Ideally, this isn't just on your contact page — it should also be listed in your website footer. If you have multiple locations, aim to list out all location information in your footer (unless you have too many locations to reasonably fit, in which case, dedicated landing pages for each will make more sense). No matter what, make sure that your location information is consistent across your social profiles and online listings.
Kent Lewis, Founder of Anvil Media
Claim, optimize and promote your business listing on local and industry-specific directories. Google isn't the only show in town. With 10 possible organic listings in search results, there are often local, regional and national business directories and associations that rank well for your brand. Most are free or low cost and provide a reasonable level of control. Many also offer reviews and ratings, which must be monitored and managed, similar to Google or Yelp.
Manage your presence in search engines via social media. The most cost-effective strategy to "own" local and branded search results for your own company name, is to claim, optimize and promote profiles on popular social media platforms. Since your website can only rank up to four times in a given search, it is imperative to ensure you augment your visibility with content you control. Social platforms like Twitter, Facebook, LinkedIn, Instagram, YouTube, and Pinterest are all highly trusted by Google and therefore rank well in searches.
Winston Burton, VP SEO at Acronym
There is a tremendous opportunity beyond Google that can allow you to improve your local search visibility. This includes ensuring your information is accurate at the aggregator level so it is consistent across the local ecosystem, i.e. other search engines and directories.
Another critical aspect of local search is to make sure your data is always fresh. And if you're creating that fresh data for Google (as you should) then you should spread the fresh data love around the entire local search ecosystem. The whole point of "being useful in the moment" is having current opening times, latest promotional offerings, accessibility, and all current contact details. Think about how big "near me" searches are and why the freshness of data is critical when people need help "right now."
Building a strong link portfolio, too, and making sure your listings are in the right categories and optimized is also important.  Lastly, making sure your content is of high quality, relevant and useful, as well as having positive reviews, is all integral to making sure you are maximizing your local search potential.
Jonathon Knepper, Strategist & Account Manager at Greenlane Marketing
Old school, but local partnerships can still drive leads/sales in 2019. There is no doubt they have to be relevant, but referral agreements, IRL signage, and/or joint service offerings can make for a win-win.
Marcus Miller, Founder of Bowler Hat
Google My Business is hugely important for SEO. And you have to get the SEO basics right. But GMB is not the only important ranking factor. I tend to find that relevant links and citations are what can move the dial for customers, particularly in competitive business categories. I just think that relevance and trust are just huge signals so earning links from (and often too) relevant industry bodies or local business organizations is key to building trust around your location. It's hard to provide a generic answer here as it can be different for each business and location but certainly, any kind of official organization that is relevant to your business is a win. Local clubs and charities can be useful to and a small donation or sponsorship can often open doors here. So, in a nutshell, links, but the right kind of links that drive local awareness and anchor you into a specific industry or location.
Sarah Nelson, Customer Service Manager at Staylisted
Google is not the "be all, end all" of Local SEO. As our tech advances, our privacy and security concerns as a society continue to rise. Many consumers are not comfortable using Google products, and if you're only on marketing on Google, you're missing out. I urge small business owners to pay attention to other search platforms. Bing has its own "places" listings that your business should be on and DuckDuckGo pulls business location data from Yelp. So in 2019, be everywhere so that you can be found everywhere.
Anne Crowe, Founder of Hello Anne Branding & Co.
My go-to local link building tactic is finding local influencers. This could mean on social media, reporters, businesses, events, the list goes on. I try to find partnership opportunities for local businesses to not only gain links but build their brand.
Dave Davies, CEO of Beanstalk Internet Marketing
When I'm dealing with scenarios where the competition for a local query is higher I recommend paid placement on Yelp or a similar site. Which site(s) I'd suggest advertising on will depend on the query and the results but in most cases one of the review/citation sites will be ranking for local search queries. The cost for advertising is generally FAR less than it would be on Google so you piggyback find what is ranking and buy cheap advertising there.
Obviously, it's better to rank yourself and that's the end-game but it's good to put some money in your pocket while you wait and even after you're ranking, conversions go up with the repetition of the brand.
Ben Wright, Founder of Today's Local Media
Facebook optimization
Taking a break from Google to focus on Facebook can have big dividends for your business. In addition to being the largest social networking site, many customers will reference local businesses in their status updates. By having a fully optimized profile with relevant photos, you will capitalize on word-of-mouth.
Community participation
Instead of focusing on Google search, try building connections with other local business owners. By participating in your local community, you creating powerful referrals back to your business from business owners invested in your success.
Chris Makara, Founder of Chris Makara
One tactic for local SEO that is not specific to Google rankings is to make sure that your NAP details are consistent across not only Google but elsewhere. Starting with your website, the NAP should be consistent with what you are using on other high authority local directories (in addition to your Google My Business listing). Being consistent not only helps provide accurate information to potential customers no matter where they find you, but it also helps you control how your NAP shows consistently across second tier directories that use data from the high authority sites. Because if second tier directories are using incorrect data, this can cause a snowball effect of spreading inaccurate NAP listings which can be very difficult to clean up.
Tom Clark, Sales & Marketing Director at Convert Digital
As a small SEO agency, we work with many different types of businesses, all of which compliment their pure SEO strategy with other methods of advertising and promotion. Our starting point is always to understand how your competitors are getting visibility from other websites. Before this though, a critical detail is in first making sure you know if your competitors are doing well on search. Our logic here is that, before we start trying to replicate their links (ie, get traffic from the websites they have a link on), we want to make sure this has correlated with rankings. If site A is ranking well for lots of keywords you wish to rank for, we would rather replicate their links than a competitor who isn't performing so well.
Niche directories are sometimes a good source of traffic, but first, we check out if the prospective site has lots of good rankings (or else we may put in an effort to be listed on a site that doesn't bring in the right type of people). Here in the UK, broad directories such as FreeIndex can be very useful, especially if you get your customers to leave reviews and get the data to pull through to your website.
So in summary, stalk your competitors' rankings than their links and then the rankings of the linking sites.
Chris Dryer, CEO of Rankings.io
Relevance, Distance, and Prominence
If you take a look at Google's guidelines for representing your business online, you'll see that they rank local businesses based on three important categories which are relevance, distance, and prominence.  That means local businesses can improve their online presence by improving the visibility of their offline physical location. For example, putting clear and conspicuous signage where their business is located.
Reach out for reviews and personalize communication
Yes, reviews happen online but the interactions for getting people to leave those reviews often happen offline.  Develop personal connections with your customers or clients. Send them physical notes, develop follow up plans for them, and in general make sure they are taken care of.  Face to face and personalized contact can go a long way with people and increase the chances that they will speak favorably of you online.
Improve the in-person experience at your business
One of the reasons people talk about businesses online (i.e. leave images on social, leave positive reviews, share links to a business's website, etc) is because they've had a great experience with that business.  If you have a location where customers come to buy your product or service, focus on making their experience a great one.
Zac Johnson, Founder of Blogging.org
Ranking at the top of Google for your brand name and whatever it is you offer is extremely important. However, it's also very competitive and expensive when done with paid advertising, link building, and SEO.
In 2019, we are likely going to see more of a focus on local SEO and how well mobile-indexing will perform with sites and small businesses. Google is already doing a great job with their local listings, so it's very important to make sure your content and information through both Google and non-Google sites (like Yelp or Tripadvisor) are correct. Having too many different locations, phone numbers or names associated with your business can mess around with rankings and algorithms – so make sure everything is good across the board.
Josh Parker, Founder of Badger SEO
Aside from optimizing for Google search, a local business would also benefit from optimizing Bing Maps and Apple Maps so when the people that are using something other than Google can find your business.
Todd Jamieson, CEO, EnvisionUp
Participate in one charitable activity in the community every few months. Ideally every month. This doesn't necessarily have to be a financial donation. It can also be about the time and effort. It can be something as simple as Going on a fundraising walk, doing a shoreline cleanup, volunteering at an animal shelter or collecting donations for a food drive. There are a lot of options based on your team's interests and abilities. After the activity (and during it too), talk about it on social media. Then: follow up and write a blog post about it. Besides the obvious positive benefits around team morale and community impact, you'll also get better exposure for your company (in the real world), possible mentions in local blogs, local newspapers, and even social media feeds of other participants.
Tyler Thursby, Sr. Search Analyst at Zion & Zion
If your goal is to build local links, there's plenty of local events and organizations in your community that are worthy of your time and resources. Years ago, I did some SEO consulting work for a tech company. I learned one of the company's initiatives was helping more women get hired into STEM fields; they were already doing some really cool things internally to give their staff access to professional training. I helped connect the company to a few local groups + events that had a similar vision and it resulted in some quality backlinks. The outreach mainly required calling and occasionally meeting people face-to-face. It's unusual in my line of work to pound the pavement for the sake of building links. More important, I helped play a small part in supporting a worthy cause — further empowering smart women in tech — and I was proud to be associated with it.
John Varvill, Vice President of Strategic Content at FE International
One thing we have started doing is creating banner ads for new content we produce. We run them on our blog articles that already get heavy traffic, ensuring some steady traffic heads over to the new content. By ensuring our new content gets some guaranteed traffic, we can help our overall SEO efforts. Even small amounts of traffic early on can help send out the right signals.
Douglas Cunnington, Founder of Niche Site Project
I would spend time to get reviews on Yelp. I personally use Yelp more than Google when I'm looking for local information. Spend time on encouraging your customers and fans to leave you reviews — running contests would be a great way to reward your customers while encouraging them to leave those reviews.
Zackey A.Reyal, Digital Marketing Manager at DigitalGlare
There are few local directories where we include the listing.  These are reputable, has a very good community and ranking.
Yelp
HotFrog
Brownbook.net
BusinessListings.net.au
ComeonAussie.com
Cylex.com.au
dLook.com.au
Fyple.biz
Local.com.au
LocalBusinessGuide.com.au
LocalStore.com.au
Apart from this, we encourage our clients to look for offline opportunities such as fliers, local events, trade shows and community events to promote their businesses.  We also carry out email campaigns which are very useful and productive.
Phil Rozek, Founder of Local Visibility System
My favorite non-Google local SEO strategy is to get reviews on some of the many online review sites. The usual suspects include Facebook and Yelp, but depending on your industry, you might also want reviews on Houzz, Zillow, Avvo, HealthGrades, TripAdvisor, or other sites geared toward specific industries. Put together, those sites can have pretty good number of eyeballs, often from people who are there specifically to compare reviews of similar businesses.
Brittany Filori, Marketing Manager 51Blocks
Creating localized content has been the biggest differentiator for our client strategy in the past few years. We make sure not only to discuss the area that the business is in but we also discuss the area as it pertains to the business. Make sure to talk about any neighborhoods, events or other news and also provide directions from major roads and highways.
Getting your local SEO done right is not difficult, and these tips will help you think of other ways to make your business discoverable.
Follow the tips and start optimizing your website for local searches today. It's never too late to do the right thing.